What characterizes the Finnish outside sauna?
Finnish sauna outside is one of the most popular types of saunas, which has been very popular for years. The features that distinguish Finnish garden saunas are the high air temperature (it even reaches one hundred degrees Celsius) and a low humidity level, so that taking a bath in it is one of the special pleasures. In addition, due to the fact that the sauna can be placed in the garden or on the plot, it is an interesting space-filling plots giving it elegance and class.
Finnish garden saunas
Bathing in Finnish outside sauna is a centuries-old tradition cultivated not only in Scandinavian countries, but also throughout the world. Thanks to its many beneficial properties, it is appreciated by people who want to take care of the beauty, as well as those who are looking for an antidote to numerous health problems. The benefits of using the Finnish sauna include: lowering blood pressure, improving the heart rate and overall efficiency of the human body, reducing muscle and joint pain or cellulite on the skin.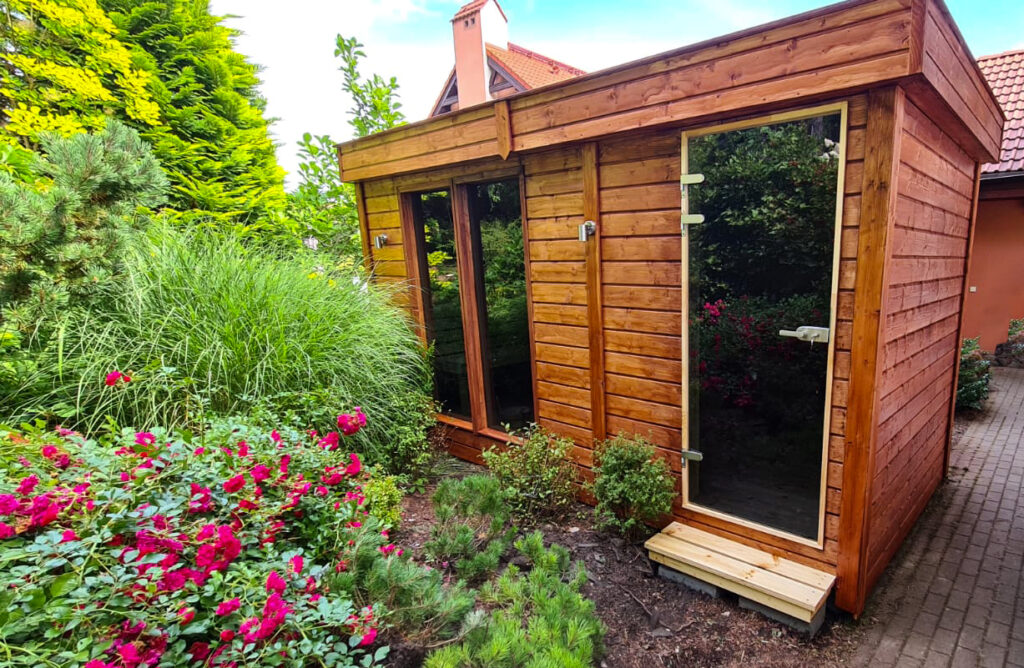 A delightful session in a Finnish outside sauna allows you to take care of mental hygiene – according to the opinion of many users, a steam bath reduces the level of stress and helps you to forget about the problems. In regard of this, when we design saunas, we try to care not only about their quality and reliability, but also comfort of use that allows you to get maximum pleasure. We invite you to see the details of the prepared proposals. We guarantee that all products you buy through our online shop has very high quality and reliability.
To satisfy our customers, we also enable personalization of a garden sauna with wooden logs, to satisfy the individual needs of the user and suited into the overall arrangement and size of the garden in which it will be located. Deciding to use our services, the customer has the possibility to make changes, particularly in the size of the sauna, the lighting and the number of premises and glazing.
Wooden beams sauna
A garden sauna made of wooden logs impresses with its beauty and is reliable. Wood, which was used during production has a timeless, classic character and captivates with its warmth and exceptional elegance. For this reason, it is not only safe to use and durable, but is also an interesting decorative element that gives the place where is located.
Do not wait and find out the real pleasure of a sauna bath today! As our priority is to meet the expectations of our customers, we care about the quality and design of products available in our store. If you have any questions, please feel free to contact our specialists.